Description
Tikki Beetle Cembro children's winter boots with wool lining are made of soft water-repellent suede. Suitable for medium-width feet.
Tikki Beetle is a barefoot shoe.
Barefoot shoes are minimalist shoes that give an experience close to walking barefoot with feet still protected from cold and injury. Walking in barefoot shoes strengthens muscles, lets your child's feet receive sensory feedback from the ground and provides free movement for the growing feet. Barefoot shoes are the most comfortable shoes your child has ever worn.
They are characterized by:
 Wide toe box following the natural shape of toes

 Zero heel-to-toe drop

 No arch support

 A flexible and thin sole

 Lightweight
Main features: Tikki Beetle Cembro children's winter boots are made of water- and dirt-repellent suede (not the same as waterproof). These ultra-light Tikki Beetle winter boots are lined with 100% natural wool with good temperature control properties. The boots have a removable 2 mm felt insole. The flexible 3mm outsole is made of natural rubber. Thanks to the laces, Tikki Beetle boots can be conveniently fastened around the foot, and a plastic quick fastening is included to facilitate the fastening.
Where to wear: Warm winter boots for everyday wear.
Fit: Suitable for feet with medium width. 
Plastic parts of Beetle's quick-laces system may come off and become a choking hazard. As a result, we strongly recommend pulling off forcefully the plastic stopper and replacing it with a knot as in the attached picture.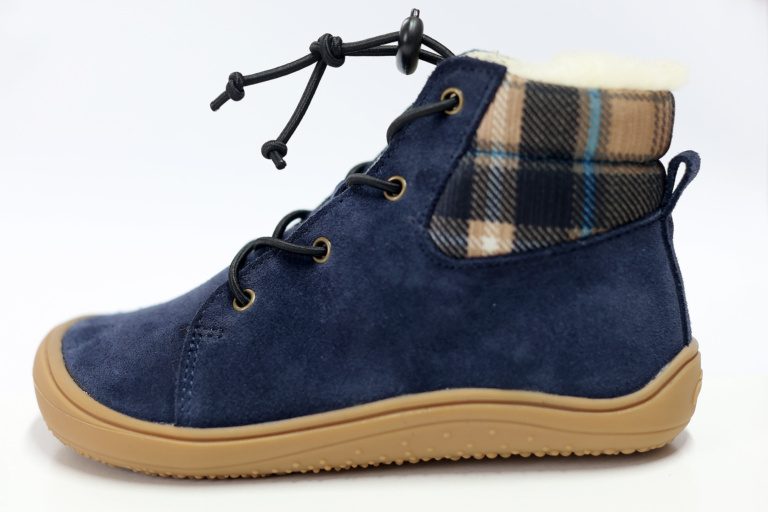 Upper material: water-repellent suede leather
Inner material: 100% natural wool lining
Insole: 2 mm felted insoles (100% wool)
Sole: natural rubber 3 mm sole
Care: we recommend spray for brushed leather shoes
Produced in: Romania